March 05, 2014
Space Dandy - Ep. 9
WTF did I just watch? This show has had some funny episodes, some surprisingly touching episodes, and some beautifully animated episodes. This one was none of the above. It was so utterly pointless, and nothing happened in it. Hell, Dandy himself spent an awful lot of the episode just laying back with his hands behind his head doing nothing. Even the animation was utterly lazy.
All I could find myself thinking of were those inevitable sections of any Tezuka movie where crudely animated "Strange creatures" are shown through a few cycles while the characters (offscreen) gaped about what strange creatures they were.
There was no real threat (Meow got fat, supposedly to be eaten by primitive plant people who didn't appear to have any mouths, and if there were no animal lifeforms on the planet, how'd they know he was edible?) no real plot, no development. It was stone soup, minus the stone (And all the other ingredients, if you go with the real meaning of stone soup).
I'm guessing this is the episode where they ran out of money, but they inserted it earlier into the sequence so they wouldn't end on a bad note.
This one is not a keeper.
Posted by: Mauser at 04:59 AM | Comments (2) | Add Comment
Post contains 207 words, total size 1 kb.
February 18, 2014
In case you were curious...
The "Everett" referred to in the ED of Space Dandy would most likely be
This Guy
.
Hugh Everett III, was a quantum physicist who first proposed the "many worlds" theory, which fits in with the lyrics about parallel worlds, and is why I think this is the guy. Which I guess shows that as low-brow as the series is, it's not entirely stupid.
Posted by: Mauser at 03:28 AM | Comments (3) | Add Comment
Post contains 68 words, total size 1 kb.
February 09, 2014
Egad!
I forgot that Kill la Kill was still running, and so I now have four more episodes to watch. Whee!
Posted by: Mauser at 02:33 AM | Comments (7) | Add Comment
Post contains 21 words, total size 1 kb.
January 25, 2014
There IS something good this season
Sekai Seifuku Bouryaku no Zvezda. I just finished the first episode, and I'm so glad I have the second to launch right into. It is out and out hilarious.
Our hero is an ordinay school boy, Jimon Asuta, and we open with him fighting with his dad on the phone, and essentially running away from home, for which he is ill-prepared (Starting off broke and hungry). But before you think the world is ordinary, outside a convenience store he meets a classmate who reminds him that "Martial Law level 2" is in effect. And it's Curfew time. And she's gone, and the stores all shutter instantly before he can buy something to eat.
Evading police patrols, he runs into a very strange little girl with what he thinks are delusions of world conquest and being the leader of a secret organization. Hoshimiya Kate AKA Lady Venera, leader of the evil secret society Zvezda. With nothing better to do, he follows her around, and that's when we discover that not only aren't we in Kansas any more, it's not even on the same map! Explosions go off and it looks like the military is fighting some giant monster, that can only be seen for the moment by the flashes of the explosions.
They continue to wander the empty streets, but they aren't entirely empty, as some strange individuals are around. Jimon gets a little tired of the game and gives Kate a dose of what he thinks is reality. She zooms off on her little bike, and feeling regret, he chases off after her, only to nearly be run down by a police car (more of an APC). Nearly, only because one of those strange individuals cuts the damned thing in half with her sword so she can interrogate him about the whereabouts of Kate. A second stranger appears, and they argue while Jimon slips away.
He finds himself in a park, and then he finds himself underneath the giant monster as Apache Gunships launch missiles. He also find himself in front of a company of tanks, and he finds the stuffed animal Kate was out looking for. And then he's really lost. The stuffed animal, along with a boatload of these little fuzzy ball creatures were what the monster was made from, and the tanks managed to blow it up, releasing them all. A deluge of thousands upon thousands of tribbles.
For some reason, he braves the charging tanks to scoop up the doll, and they surround him. The mask he's carrying that Kate game him makes them think he's the enemy who was controlling the monster (It was actually another guy he encountered in the park). The tank company are about to capture him at the orders of their general when SHE steps in. The Primary Target, the Leader of Zvezda. It's the little girl, in a costume change. And the tank commander takes the initiative and fires at her, point blank. She stops the shell with her fingertip (with a large floating glowing magical symbol at the tip). Jimon is speechless, thought-free, and probably this close to involuntary incontinence.
The stuffed animal is, apparently some kind of power focus, and Kate uses it to manifest a giant hand, and smash the tank company. The shattered tanks and the unconscious tank commander are thoughtfully labelled with a symbol indicating they've been "Conquered".
Later, after the strangers chastise their member who unleashed the monster too early, Kate joins with them and introduces Jimon as their newest member. He does not take it too well, but what's he going to do?
This was just so over the top, full of weirdness, I loved it. If you liked Kill la Kill, give this a try.
Posted by: Mauser at 03:53 AM | No Comments | Add Comment
Post contains 629 words, total size 4 kb.
January 21, 2014
Upgraded
Himawari got a third drive. A 3 Terabyte Seagate. And what is this massive storage going to be used for? Backups.
Himawari started with a 2 T Seagate, which was divided in 2 for historic reasons (C: and D:). And got a second 2T for backups (E:) and to help me save all my stuff from the painful process of the Win XP-7 upgrade process. Well, the D: partition was where the torrents were going, and it was filling up, and the backups of C: and D; were filling up E:. I pondered aiming the torrents at the new drive, but really, with E: freed up, 2T should hold the torrents and future downloads, D: could be freed up for who knows what (C: has scads of space too). F: now will comfortably hold the backup that was filling E: up.
The real painful process though was getting uTorrent to point at the new folder. I copied the CompletedDLs folder in the File explorer, and changed the directories in the preferences, but to get the torrents to point to the new location was painful (one thing that helped was renaming the original directory on the D: drive, because uTorrent then defaulted to the new folder, saving a lot of hunting). Basically I would select a bunch of torrents, chose "Advanced>Set download location" and then say no when it asked to overwrite the existing file. However, about a dozen torrents didn't like having their download directory changed. It didn't seem to "Take" for the files inside them. The common factor was that they were torrents with directories inside them, ones where the torrent name and the directory name didn't necessarily match, and typically ones that had been altered by some torrent echoing service that likes to add little text files saying they were the source to them. Some were easier to fix than others, but some ended up needing the individual files set to the right location, which often would result in the files in the torrent getting names with a fully qualified path. I never could get them to look the way they did originally, which probably means the torrent's structure was mangled from the beginning.
Well, everything points in the right place now - running Force Re-check on everything is a good way to make sure. but some of them are still ugly.
Would it have been better to let uTorrent relocate the files, I don't know. It probably did help to not start anything new until everything had finished seeding.
Posted by: Mauser at 04:08 AM | No Comments | Add Comment
Post contains 423 words, total size 2 kb.
January 12, 2014
I iz a Writer
I've been putting stories and serializing a novel on my DeviantArt page for a number of years now. But some friends of mine have had some pretty good luck joining the eBook revolution, and it was time I got on the bandwagon. Eventually the novel will be completed (although it's been taking a lot longer to complete than I thought it would), but to at least try to get the tool-chain working, I chose one of my more recent shorts, a novelette, technically, and ran it through the process.
Voodoo is probably a better term for it, since the single hardest thing to get right is the starting location, and even then, half of the viewing tools don't seem to honor it (Calibre doesn't, Amazon's online Kindle simulator doesn't, their PC reader does, and the Kindle itself does, IF it's set properly, but nobody seems to agree what properly is).
A lot of the process is centered around using Microsoft Word. I don't use Word, I use OpenOffice, and while it's mostly compatible, I think there must be a subtle difference in the bookmarking feature. So instead of trying to directly upload .docx format, I found a nice tool called Alkinea that can translate .odt into .ePub format. It can supposedly run the .ePub directly into KindleGen to get a .mobi file, but I can't make that work. Amazon can take either the .ePub or the .mobi format. Or hey, you can even try to use Calibre to go all the way to AZW3, the main Kindle format.
But in any case, you need to unzip the .ePub into its respective .xhtml files to make some edits, since the first file will be your front matter (copyright statement etc) and you want it to start at the second one, then zip it up again. PeaZip has an advantage over 7-Zip in that it has a context menu for opening any file as an archive, saving you from one extension change (but you need to change extensions on the way back, alas). PeaZip can also open .cab files, which isn't relevant here, but it saved me once for a driver install.
Amazon's uploader can take .docx, .ePub, and .mobi. But even though KindleGen takes the same .ePub that Amazon would convert into a .mobi, uploading the two files produces a different final product. .mobi seems to remain a little more faithful to one's intent.
The author of Alkinea has put out a new version in response to my issues, but I haven't gotten to try it yet.
And somewhere in the fighting I managed to let Calibre "Smarten" my quotes and turn my scene breaks from --- into a single em-dash, but since that file worked, I quit while I was ahead. So I don't exactly have a tool-chain
per se
, at least I can eventually get where I'm going.
Oh, I suppose I should put a link here. This is
Kiwi
on Amazon (For those outside the US, it should be the same ASIN with your local Amazon domain substituted). It's about a rather bigoted human who gets locked up with a female alien criminal. While the expected eventually happens, it does not work out well for either of them. In the week it's been up I've sold 6 copies. Woohoo! (And I had one jerk from the UK buy it, read it, and return it the next day. Apparently that's legal, and little can stop him from keeping a copy anyway.)
Posted by: Mauser at 10:01 PM | No Comments | Add Comment
Post contains 586 words, total size 3 kb.
December 30, 2013
For Steven
If he ever comes by, these are from Accel World episode 6. The woman is "Aqua Current", who helps our pudgy hero when he spends too many points leveling up and is at risk of getting knocked out of the game.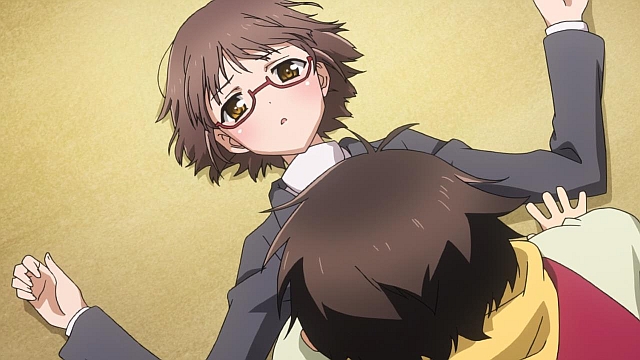 With bonus awkward fall.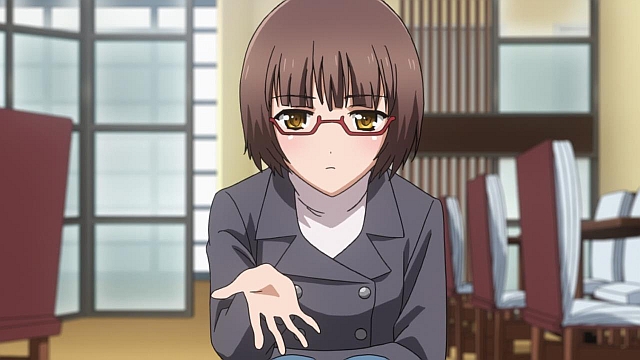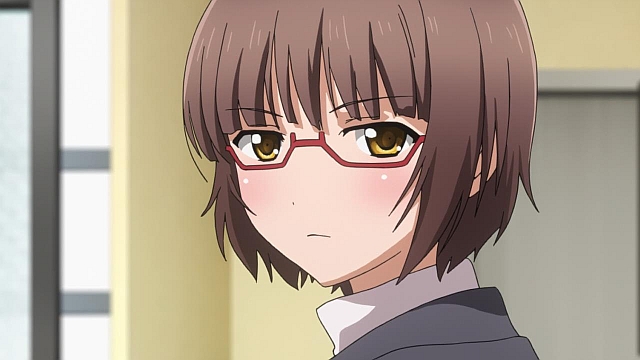 Bonus: Her avatar wears them too.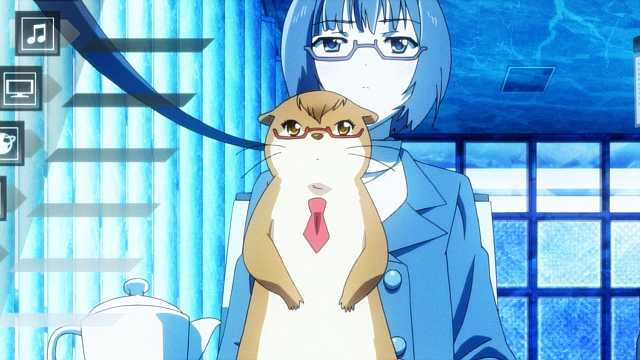 "You can introduce me to Gendo Sensei?"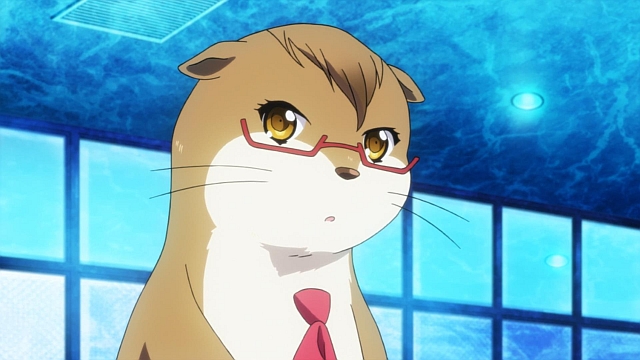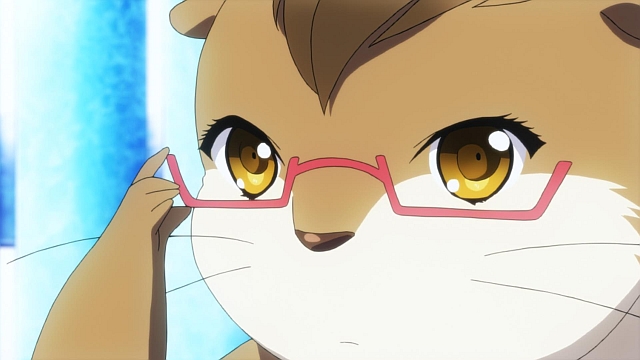 Posted by: Mauser at 06:39 AM | Comments (13) | Add Comment
Post contains 60 words, total size 1 kb.
December 29, 2013
I must be doing something right
After a LONG absence, I'm attracting spammers again. Annoyingly, there's one Japanese one who has figured out the formula well enough to come in at a 4.5 on the spam-o-meter so his posts actually show up.
Until I delete them.
---
In the Queue: Accel World. I decided to pick it up because of an AMV. Yeah, I know I hate Arena combat, but something about the interaction with the pudgy, loser main character and the school princess makes me want to find out what's going on.
Two episodes in though and I'm seeing one flaw with the design. New users of the Brain Burst program get 100 points. Every time they enter it they lose one, and every time they lose a fight, they lose 10 (or win 10 if they win). There may be a greater prize if they beat a higher level player, as unlikely as that is. If they're wiped out, they're locked out of ever using it again. So it's kinda like AmWay, to get anywhere you have to keep bringing new people in and wipe them out. Thus it CAN'T be such a secret society like they're making it out to be, and their count must be off. Especially since other players seem to enter the burst mode just to watch the fights.
Update: Okay, Spectating doesn't count, but still, the point economy only has transfers and losses, so the only way to add to the economy is new members.
Posted by: Mauser at 10:42 PM | Comments (4) | Add Comment
Post contains 251 words, total size 1 kb.
December 27, 2013
Planetes - Series Review
Finally! Something Good!
I try to be a good guy, and when something is commercially available, I get it from Netflix instead of torrents. Well, usually. But some schmuck lost or destroyed disk 4, and they are probably never going to get it replaced. Surprisingly there are a couple of active torrents (one is insanely big, BD dumps and tons of extras (but who really needs 6 meg png files?) 27 gig is just too much.)
The show is near-is future, 2075, Earth orbit is very commercialized, and very full of junk. Our heroes work in the very lowly-regarded Debris Collection department of one of the space companies, Technora. Tanabe Ai is a young girl who just got her job with the company, and as she and her three other friends who came up with her go to their new departments, she begins to realize that her low test scores have literally landed her at the bottom. But in spite of the weird crew of misfits she's been assigned to, she takes her work of making space safe very seriously.
Hachimaki - Hachirota Hoshino is their ace EVA guy, Fee Carmichael is the pilot of the Toy Box, a retrieval vessel with a big cargo bay that opens, for the big stuff, and a compliment of "Fishbones" bare-bones crew transport sleds for the smaller bits. Yuri Mihairokoh is another crew member, who has a side business running a kennel for people's pets, plus there's an assistant manager who is a bit of a clown, but always eager to make sure he's licking the shoes of the company superiors properly, and a manager who is thoroughly inept but very close to retirement. Fortunately they have a temp worker secretary who is utterly by the books to keep the paperwork straight.
In 26 episodes the manage to cover a LOT of story arcs. There is a good amount of soap opera, Office politics, international politics, Space terrorism, disasters, philosophy, and a mission to Jupiter.
Some of the characters are tropes, of course, Ai is naive, but outspoken, and true to her name believes in the power of love, even when she's screaming at Hachimaki for being such a sullen lump. He has a pilot buddy who is moving up in the world, graduating from freighters to a passenger shuttle, while he's been in neutral collecting debris for the last three years. Fee is an excellent pilot, but nothing had better come between her and her cigarettes. Yuri's personal arc starts with him getting into debris collection because he and his new wife were on a shuttle that got hit by a very fast-moving bolt. She and her effects weren't found, but he's hoping to find something of hers. He does, a Compass she was wearing around her neck, and while that helps, it's not until it gets crushed in an accident that he's finally able to let go of his grief.
The Terrorists, the Space Defense Force, don't like it that first world countries benefit the most from space resources, they want mankind out of space and the money spent on them and their problems. By odd chance, it's the crew of the Toy Box that fouls their plans again and again. But this isn't low-comedy, Saturday morning "Curses, Foiled again" plot foiling. At one point the Toy Box is destroyed on re-entry, almost taking Fee with it when a satellite designated as junk turns out to be a powered kinetic kill vehicle aimed at the big twin-wheel station that is their home. The resulting debris field will take out the other 11 stations, and pollute orbit with enough junk to basically confine mankind to the surface.
This is a show that loves space, and in spite of the politics of resource allocation in the backdrop, it unabashedly promotes the idea that humanity's future is out there, although it is a cruel and unforgiving mistress.
Yeah, I can recommend this. I watched it straight through over the course of two days.
The Deadfish torrent is 6.84 gigs, contains just the 26 episodes in 720p, but, alas is hardsubbed.
Posted by: Mauser at 07:39 AM | No Comments | Add Comment
Post contains 690 words, total size 4 kb.
December 24, 2013
Deadman Wonderland
So, rather than resuming episodic reviews, in this case I just went and sat through the rest of the series. It's been a while, so I don't know if anyone would pick up the thread for lack of relevance.
I will give the series credit on one point. It did NOT devolve into endless arena combat, but it does switch gears halfway through. After two fights, there's a bit of a wrap-up to the Takami Yoh arc - his sister it turns out is one of the "Deadmen" and he deliberately got into the prison to amass a huge amount of the Cast Points in order to buy his sister's sentence out. Unfortunately, once he tracks her down to the hidden G-block, he's told that prisoners there can not buy their sentences off. He is moved almost completely off the chessboard by having the living snot beaten out of him by one of the anti-deadman enforcers they suddenly introduce, called Undertakers.
Ganta falls in with a crew planning to bust out. And this introduces the reason I decided to finish watching, there's a girl with dark skin and almost-white hair. I really like that combination in Anime girls, I have ever since I saw Pirotess in The Legend Lodoss War. Doesn't hurt that she's fairly stacked, and she's the second in command of the group. Her blood power forms an impenetrable shield on her skin. It's kind of improbable that they had a sort of bar to hang out in off the G-block.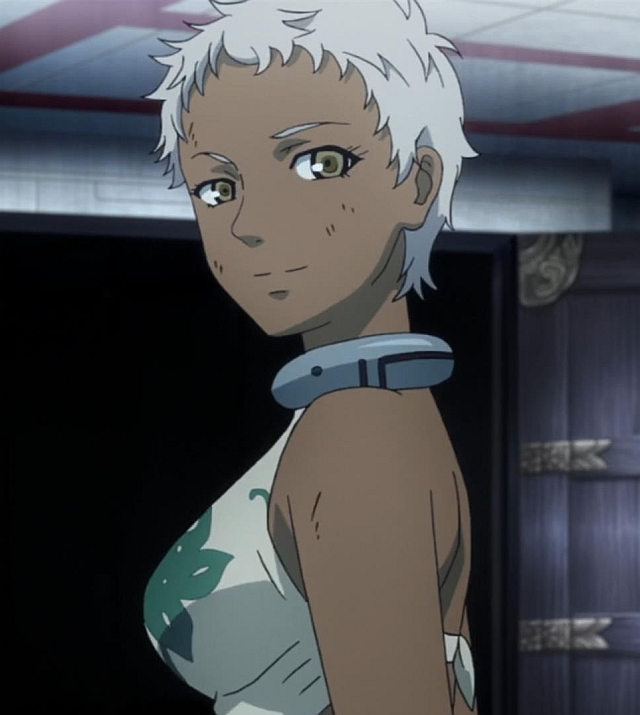 A little the worse for the wear after the big fight.
The plotters are taking advantage of a week-long inspection tour of the prison, during which a lot of the skeevier elements are hidden away. They have one super-hacker on the crew, and he's prepared a data drive full of evidence that will bring the place down. All they have to do is break out far enough to get it into the hands of a government official or member of the press.
Ah, they're so naive.
Their data expert is a traitor, actually a member of the undertakers, and it's all a setup. The data drive is not only a fake, it's an explosive device. They don't know this. While the leader and the hacker breach the control room to open the freight elevator for the others, the Undertakers make their move.
And at this point, they introduce one of the most improbable of characters, my disbelief had to be suspended by the neck until it stopped twitching. Clearly they must be borrowing from Bleach or something. The undertaker who shows up to take out the leader of the escape crew is a little 7-year old girl with a giant chain-blade axe twice her size that has no respect for the laws of physics. She has a background in punishment that makes Mommie Dearest look like Teletubbies, and apparently this led her to kill all of her kindergarten classmates for their deficiencies.
The leader manages to knock out the hacker, and drive off the girl and activate the freight elevator, which the rest of the crew takes, and which, naturally, leads them to a slaughter. He gets on the coms to warn anyone listening at the clubhouse about the data drive, but of course, nobody's there. Well, except Shiro, who, not having any blood powers (that anyone knows about) has been left out of the plot. With most of the crew dead, for some reason the Undertakers and their troops retreat. Shiro arrives via an alternate route, grabs the drive from Ganta's hand, and chucks it in a burning storeroom where it explodes. The fact that the store-room was full of flammables disguises the reason for the explosion, and Shiro's nutgirl logic is unable to explain why she did what she did. All Ganta can figure out is that she just ruined the escape plot, he punches her and they have a falling out.
There's a bit of business where the leader of the Undertakers captures and brainwashes the leader to be one of them, while the remains of the crew are held hostage to ensure his co-operation. The data guy comes in to gloat, reveals that the USB-like data chip was a fake AND a bomb, and that he was the one who edited the video that convicted Ganta, among other things. He also has a dislike for Ganta and wants him killed first, by two thug-like Undertakers who are given brief flash-back introductions (one raised by bears in the woods, the other an Ed Gein-like serial killer). The first guy Ganta fought, who wasn't in on the escape plot, whose blood forms sword blades on his arms, crashes in, kills the two thugs, and Says something about wanting to get in on the fight. "Who are their toughest guys?" he asks. One of the crew points to the floor, "I think they were." He looks very disappointed. Melee ensues, the squad is killed, that Data guy captured and beaten for intel. Dark/White announces they're going to break out anyway, and that demonstrating their powers would be enough to prove that something hinky is going on in the prison. Ganta is left out of the plan.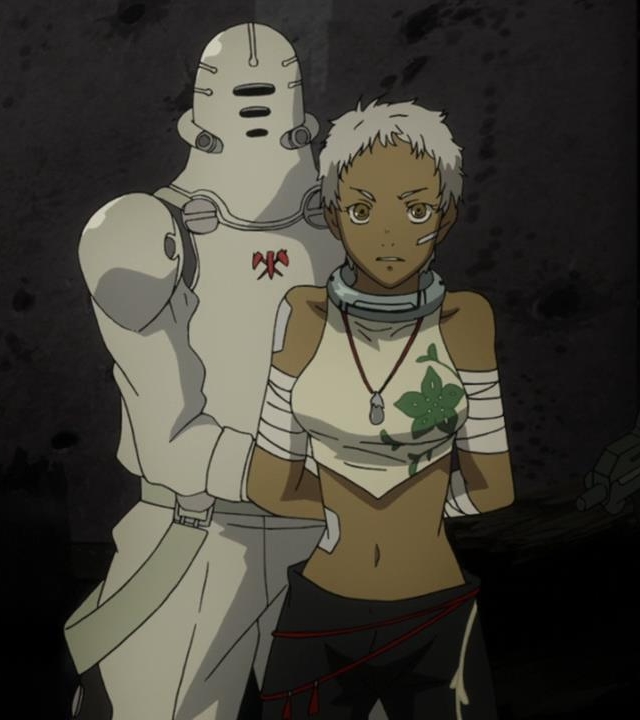 It's a prison, you'd think they'd have handcuffs or something, but no, he's HOLDING her hands behind her back. A fatal tactical error.

At some point, Dark/White is captured (after switching into some captured Undertaker armor - but her voice gives her away), along with Shiro, and unspeakable things are going to be done to them if they don't all surrender. But the crew sticks to the plan. Ganta, being out of the deal, goes to the rescue, and basically gets his clock cleaned. Dark/White is nearly killed by the brainwashed leader, who goes on to massacre basically everyone in the room, but Ganta interposes himself as a human punching bag when he comes after Shiro. Eventually though, he snaps out of it (cued by a bell Dark/White wears around her neck), and the leader of the Undertakers is defeated.
Three of the crew escape. The director doesn't quite care since none of them are on the official roll of the prison. Major Boobs, er, Makina, who with her data girl managed to get the goods on the director slyly agrees that everything is okay, but well, if there's a season 2, something might happen with that.
Of course, there was no season 2, and I suppose the Manga may even still be going. So it stops, but it doesn't end. Ganta and Shiro are reconciled, but they don't escape. Shiro had been revealed to have also been the Red Man responsible for it all, but only to the viewers. I guess she wanted Ganta to be with her to "play".
Posted by: Mauser at 06:02 PM | Comments (4) | Add Comment
Post contains 1133 words, total size 7 kb.
64kb generated in CPU 0.13, elapsed 0.1278 seconds.
37 queries taking 0.0729 seconds, 132 records returned.
Powered by Minx 1.1.6c-pink.