April 02, 2017
Liquid Coolers Redux
Last July I wrote about the liquid cooler on my PC going kaput. Looks like the warranty replacement unit is crapping out now too. I had one overheat incident yesterday, and a couple of pump stoppages that were "cured" with a solid rap today. I know it will get worse. I've already contacted support. If they say its out of warranty, I'll switch brands.
Posted by: Mauser at 04:34 PM | Comments (4) | Add Comment
Post contains 67 words, total size 1 kb.
March 12, 2017
That is F-ing twisted!
A number of hours ago I mentioned in a comment that I'd watched the first episode of "Youjo Senki", also known as "The Saga of Tanya the Evil."
Holy shit!
This is not your typical magic flying girl soldiers kind of anime. Hell no! This is to Strike Witches what Madoka Magica is to Sailor Moon. The first episode was merely setup of the current war situation. The second episode gives us Tanya's back story. And it is a trip, temporally, theologically, and dimensionally.
Yeah, the "Heroine" is a socipathic atheist being punished by God with a really unfortunate reincarnation in order to push "Him" into such straits that "he" will finally admit to faith, and he's determined to live this life as a gigantic "Fuck you" to God--or "Being X" as he allows the divine to be called.
Sweetness and light it ain't. And that's only two episodes in.
Posted by: Mauser at 05:05 PM | Comments (1) | Add Comment
Post contains 154 words, total size 1 kb.
March 05, 2017
Little Witch Academia
Just throwing down a Marker here, after 6 episodes, I'm betting the big secret is:
They totally gave it away this episode.
Funny thing is, this show reminds me of something I only saw a single episode of in the '80's at the Philadelphia Animation Society, about a poorly regarded school magic club where the witches fly out on brooms and save the city (Tokyo?) from something attacking from the sea. I have no idea what it was called.
And while I'm flashing back on the days of 50 anime fans crammed into a rented room to watch fuzzy tapes on 19" TV's, does anyone remember "Prefectural High School Earth Defense Force"?
Posted by: Mauser at 03:42 PM | Comments (2) | Add Comment
Post contains 116 words, total size 1 kb.
February 28, 2017
Not another one...
An artist I've known personally since the 1980's, Taral Wayne has just announced that he's recently suffered a stroke. I don't know much more than that. He had a friend type that for him in his DeviantArt Status.
Posted by: Mauser at 07:04 PM | No Comments | Add Comment
Post contains 41 words, total size 1 kb.
January 21, 2017
Any suggestions for this Season?
Seriously. I actually like them. So what are you all watching that you think is good?
Posted by: Mauser at 08:53 PM | Comments (13) | Add Comment
Post contains 21 words, total size 1 kb.
January 14, 2017
Miss Daicon revisited
One of my first introductions to anime back at the Philadelphia Animation Society in the mid '80's, was a fun little convention opening animation set to ELO's "Twilight" from the album
Time
. It had been degraded from many generations of recopying, but it was pretty amazing, and showed what Fans were capable of. Plus it was an
homage
to everything that was good in fandom back then.
Lately on Youtube I've been getting an amateur (hardly!) video series suggested to me. But this one, "Cassette Girl" is especially worthy, since it hearkens back to that Daicon IV Opening Animation. Although I still don't understand the fascination with Betamax....

(Deleted by user, substitute found)

Posted by: Mauser at 07:12 PM | Comments (3) | Add Comment
Post contains 116 words, total size 1 kb.
January 07, 2017
Wheee! Another Instalanche!
For "
Who Goes There
?!" basically a failed writer goes on HuffPo and writes a piece about how all Self-Pub books are shit because they don't pass through the NYC Publisher's gatekeepers. Larry Correia fisked the living shit out of the post, but I had a different insight that started as a comment and turned into an essay. My theory is that thanks to the way Sales ranking and reviews and also-boughts work on a site like Amazon, plus blogs and social media, the "Gatekeepers" have been Crowdsourced.
Posted by: Mauser at 12:53 AM | Comments (1) | Add Comment
Post contains 90 words, total size 1 kb.
December 26, 2016
December 25, 2016
Merry Bachelor's Christmas
You know, sometimes Anime Subtitles make their own Memes.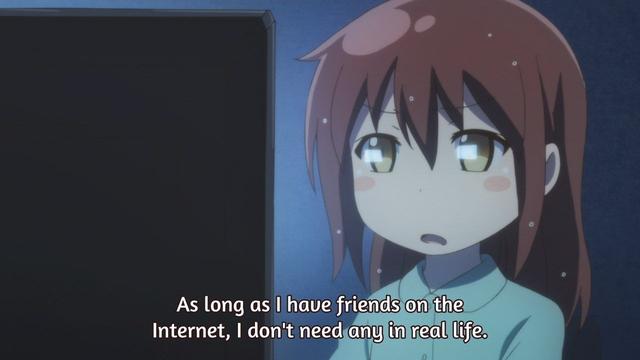 From
Danna ga Nani wo Itteiru ka Wakaranai Ken
Ep. 3
Posted by: Mauser at 10:08 AM | Comments (8) | Add Comment
Post contains 23 words, total size 1 kb.
November 27, 2016
How I spent my Thanksgiving Vacation
Basically, other than eating and sleeping, and a couple of errands, I spent it grinding 70,000 XP on World of Warships to finish the last two parts of the Takao mission. And it was astonishingly frustrating, because the only qualifying ships I had were the ARP Haguro and the Ryujo carrier. And damned if I can tell what actually equates to XP, because I had one amazing round where I sank three ships and did over 53K in damage, and got only 7-800 XP, and others where I did a lot less, but got a lot more (and it wasn't just the difference between winning or losing, but god did I lose a lot!)
Most frustrating thing with a carrier is getting that last torpedo run perfectly lined up, a guaranteed kill... and the game ends. That happened way too often. With the Cruiser, it was ammo selection. All the general rules of what to use didn't seem to apply. Plus I got stuck in some high tier matches. I actually had one match where I died fairly early. I had 0 Damage, but I didn't get the "You have not proven yourself in this battle" message. I had a hit on one ship with AP for zero damage, and a hit on another with HE, also for no damage. And don't get me started on Haguro's torpedoes....
Still, I won the Takao. I finished attaching all the upgrades, but I haven't allocated her 10 skill points yet.
Posted by: Mauser at 09:18 PM | Comments (4) | Add Comment
Post contains 254 words, total size 1 kb.
44kb generated in CPU 0.1, elapsed 0.0681 seconds.
38 queries taking 0.0275 seconds, 172 records returned.
Powered by Minx 1.1.6c-pink.