January 21, 2017
Any suggestions for this Season?
Seriously. I actually like them. So what are you all watching that you think is good?
Posted by: Mauser at 08:53 PM | Comments (13) | Add Comment
Post contains 21 words, total size 1 kb.
January 14, 2017
Miss Daicon revisited
One of my first introductions to anime back at the Philadelphia Animation Society in the mid '80's, was a fun little convention opening animation set to ELO's "Twilight" from the album
Time
. It had been degraded from many generations of recopying, but it was pretty amazing, and showed what Fans were capable of. Plus it was an
homage
to everything that was good in fandom back then.
Lately on Youtube I've been getting an amateur (hardly!) video series suggested to me. But this one, "Cassette Girl" is especially worthy, since it hearkens back to that Daicon IV Opening Animation. Although I still don't understand the fascination with Betamax....

(Deleted by user, substitute found)

Posted by: Mauser at 07:12 PM | Comments (3) | Add Comment
Post contains 116 words, total size 1 kb.
January 07, 2017
Wheee! Another Instalanche!
For "
Who Goes There
?!" basically a failed writer goes on HuffPo and writes a piece about how all Self-Pub books are shit because they don't pass through the NYC Publisher's gatekeepers. Larry Correia fisked the living shit out of the post, but I had a different insight that started as a comment and turned into an essay. My theory is that thanks to the way Sales ranking and reviews and also-boughts work on a site like Amazon, plus blogs and social media, the "Gatekeepers" have been Crowdsourced.
Posted by: Mauser at 12:53 AM | Comments (1) | Add Comment
Post contains 90 words, total size 1 kb.
December 26, 2016
December 25, 2016
Merry Bachelor's Christmas
You know, sometimes Anime Subtitles make their own Memes.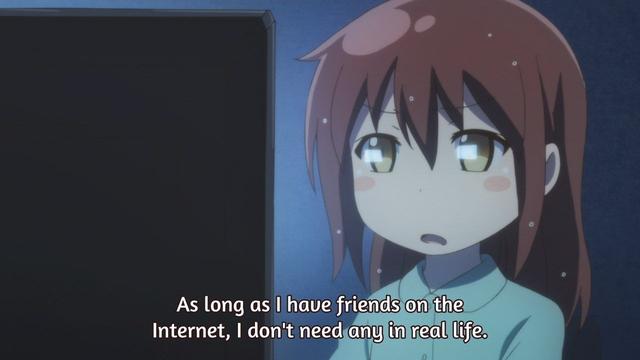 From
Danna ga Nani wo Itteiru ka Wakaranai Ken
Ep. 3
Posted by: Mauser at 10:08 AM | Comments (8) | Add Comment
Post contains 23 words, total size 1 kb.
November 27, 2016
How I spent my Thanksgiving Vacation
Basically, other than eating and sleeping, and a couple of errands, I spent it grinding 70,000 XP on World of Warships to finish the last two parts of the Takao mission. And it was astonishingly frustrating, because the only qualifying ships I had were the ARP Haguro and the Ryujo carrier. And damned if I can tell what actually equates to XP, because I had one amazing round where I sank three ships and did over 53K in damage, and got only 7-800 XP, and others where I did a lot less, but got a lot more (and it wasn't just the difference between winning or losing, but god did I lose a lot!)
Most frustrating thing with a carrier is getting that last torpedo run perfectly lined up, a guaranteed kill... and the game ends. That happened way too often. With the Cruiser, it was ammo selection. All the general rules of what to use didn't seem to apply. Plus I got stuck in some high tier matches. I actually had one match where I died fairly early. I had 0 Damage, but I didn't get the "You have not proven yourself in this battle" message. I had a hit on one ship with AP for zero damage, and a hit on another with HE, also for no damage. And don't get me started on Haguro's torpedoes....
Still, I won the Takao. I finished attaching all the upgrades, but I haven't allocated her 10 skill points yet.
Posted by: Mauser at 09:18 PM | Comments (4) | Add Comment
Post contains 254 words, total size 1 kb.
November 13, 2016
Catsuit....
So apparently the way to draw traffic and interest is to post pictures, and I've been way remiss in that department.
Way back when I was reviewing Deadman Wonderland, I mentioned a scene where the security chief of the prison went and donned a catsuit to explore a part of the prison that was secret to her, even though her own uniform would have served her better. There was a delightful shot of her zipping it up. I remember asking other people what they were using to make animated .gifs, but no advice was forthcoming. I was never able to compile one.
I still can't, but someone else did make one of the aforementioned scene, so I present that in all its mesmerizing glory.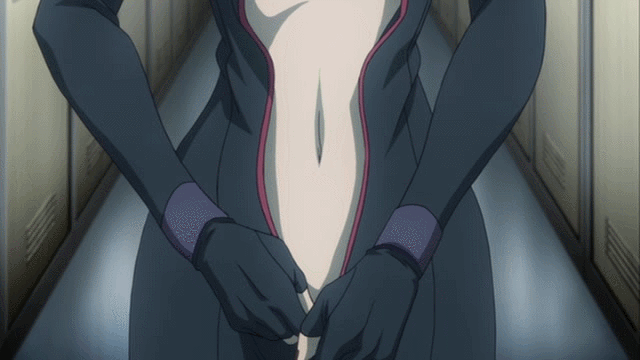 I know some would rather see it go down than up, but I'm weird that way.
Posted by: Mauser at 02:58 PM | Comments (14) | Add Comment
Post contains 141 words, total size 1 kb.
October 30, 2016
What to Watch?
I don't even know what's going on this season. Does anyone have any suggestions on what I should check out?
Posted by: Mauser at 07:15 PM | Comments (5) | Add Comment
Post contains 23 words, total size 1 kb.
October 15, 2016
Puff piece
So, this windstorm of the century we were supposed to have today was a bust. the nearest weather station to me did report sustained winds in the upper 20's with a gusts in the 30's. But nothing like the apocalypse the news stations were touting on Friday. The blow on Thursday was harder than today.
Maybe someday people will learn that the time to do disaster preparedness is not the day before a disaster is predicted, but well in advance. You won't be fighting over D-Cells you won't need, and you'll actually have gas for that new generator you've never tried out before.
Posted by: Mauser at 11:45 PM | No Comments | Add Comment
Post contains 105 words, total size 1 kb.
October 09, 2016
48kb generated in CPU 0.04, elapsed 0.0483 seconds.
38 queries taking 0.0186 seconds, 183 records returned.
Powered by Minx 1.1.6c-pink.