September 12, 2015
Monster Girls Episode 9
I had to force myself to get through this over the course of the week. It was just... bad. Contrived, Stupid, Dull, those are all good words. One of the worst plots in Harem Anime is Team Jealousy. Where the Hero meets some other woman (in this case Agent Smith, whom the girls KNOW he's not interested in) and they gang up to spy on him, and hilarity ensues.
Only it didn't. Somewhere the writer got the idea that Suu, being a goo girl who can poorly imitate anything, can become clothes/disguises for the purpose of the plot, and of course fail at an inconvenient moment. The single worst example of this is where she becomes boobs and arms for Papi (The harpy), and she drops the phone, which sinks into her cleavage, literally, and Papi ends up wrestling with her "boobs" in an attempt to get the phone to come out, in the middle of an arcade, with dozens of nosebleeding guys watching and snapping pictures, unconscious of what she's doing.
Dumb. Seriously. I know she's supposed to be bird-brained, but I couldn't watch that.
I won't go into the details of the plot, such as it was. If the episode was saved by anything, it was this one shot: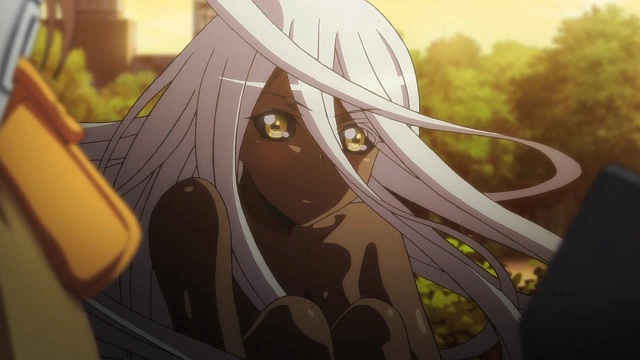 "Tell me more about my eyes...."
Posted by: Mauser at 01:12 AM | No Comments | Add Comment
Post contains 221 words, total size 1 kb.
17kb generated in CPU 0.02, elapsed 0.0495 seconds.
30 queries taking 0.0335 seconds, 149 records returned.
Powered by Minx 1.1.6c-pink.