March 24, 2015
Junketsu no Maria Ep. 9
Still saving things for a full write-up. Although one comment I wanted to throw out there is that while Maria is against the war and killing and death and such, this show is not some anti-war polemic. Save that for 15-year-old Gundam pilots who whine, "War is so horrible! Why do I have to be so good at it?" I saw another review that didn't quite get that, and thought that as an anti-war polemic, it didn't quite make good sense.
Mostly all of the characters have contradictory beliefs to struggle with. Maria is in love with a young man, but thanks to a bit of a curse the Archangel Michael laid on her, if she has sex, she loses her magic. (Said young man is torn between his love for Maria and his duty to his Lord.)
Unfortunately, word of this curse reaches the high priest, and the local lord, and they send a mercenary who has no love for her interference in his battles to, ahem, relieve her of her magic. By a strange turn of fate, he is interrupted before he can complete the deed, but Maria still seems to have lost her magic, and that is when the church and their forces seize her.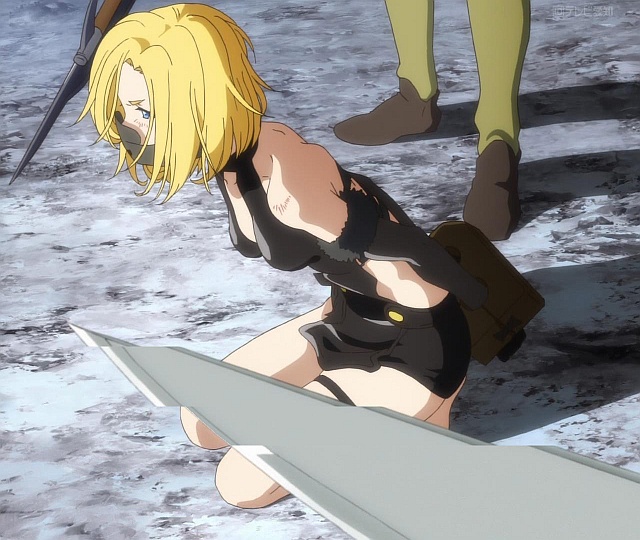 Which goes to show, you can keep your virginity and still be totally fucked.

I expected this mostly to be a sex comedy, especially since all the witches send their familiars to go off and molest the generals to influence the tides of battle, and make a bit of money (Although one English witch conducts some of her affairs in person). But Maria's conflict and her willfulness, and principles, all conspire to put her in exactly the wrong place. In the scene above, she is brought before the village she protected and who loved her in order to be rejected and humiliated. (And then in an even WORSE fate, she ends up in a cell with the head priest who has a philosophical revelation, all of which goes over her head as he quotes more and more philosophers.)

Posted by: Mauser at 03:33 AM | No Comments | Add Comment
Post contains 351 words, total size 2 kb.
March 17, 2015
Go! - Public Service Broadcasting- the Race for Space
This is fun:
The rest of the album and tons of space stock footage can be found here:
Posted by: Mauser at 11:20 PM | No Comments | Add Comment
Post contains 27 words, total size 1 kb.
19kb generated in CPU 0.03, elapsed 0.0579 seconds.
30 queries taking 0.0386 seconds, 151 records returned.
Powered by Minx 1.1.6c-pink.