March 09, 2012
When Bridge Bunnies Lose It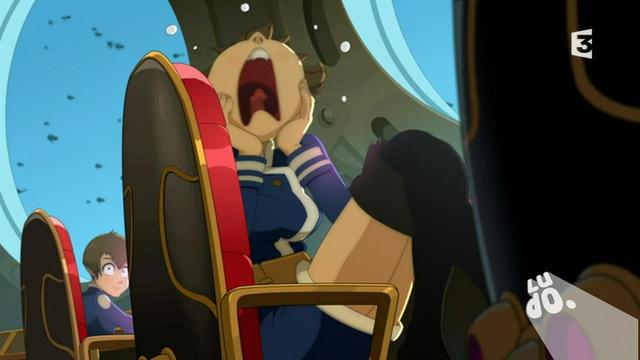 Mostly an image test, but I thought this was a particularly funny bit in a recent episode of Wakfu. A fleet of Pseudo Atlantean warships are bombarding an Island that is the landing point of an invasion of demons (shu-shus) from dimensional portal in the sky. They are awesome, but they are being overwhelmed, and the prince's crew of bridge bunnies are starting to crack. This one ends up screaming and kicking her feet.
Now I've tried using the Re-size tool, and now the listing for the image says it's 640x360, but inserting it again jumps back to the original 960x540 image. The file directory is the only thing that things I re-sized it.
Posted by: Mauser at 02:02 AM | Comments (3) | Add Comment
Post contains 119 words, total size 1 kb.
March 03, 2012
Just because you can, doesn't mean you should
In this case, I'm applying it to CGI, and more specifically to Blassreiter. The messy plot involved a nanomachine virus taking over Germany turning people into mindless biomechanoid horrors (Except main characters who manage to hold on to their minds and thus become superpowered), TWO Messianic figures, Lots of motorcycles and motorcycle-like machines, and ample fodder for those with battle/flight/space-suit fetishes (yes, they exist). Halfway through it turns into an unbearable morality play about ethnic hatred, repeated over and over through everyone's flashbacks, as if between disks 2 and 3 they changed directors and writers. You can tell because suddenly the original pseudo military team on motorcycles is replaced with a different force mounting semi-combinable robots, and the plot goes even more to hell (Why would Messianic Figure #2 need a mole in the team if he was the one in charge of the whole thing?)
But to get back to the title of this post. They did the biomechanoid creatures in CGI, and everything else in traditional animation. Not only is that jarring when you put them in the same frame, but it really goes wrong when the directors forget some of the basic tenets of filmmaking. Just because CGI allows you to make a camera zoom in and fly through and spin and twist in the middle of a battle, and also allows you to make excessively elaborate character designs with glowing neon details and animate them in high-speed choreography, doesn't mean you should take all that and turn it up to 11. The result is that your vision of a mind-blowing string of cool images instead turns into a eye-strain and motion-sickness inducing mess of visual noise that's as hard to make sense of as the plot.
Posted by: Mauser at 06:06 AM | No Comments | Add Comment
Post contains 298 words, total size 2 kb.
20kb generated in CPU 0.03, elapsed 0.0519 seconds.
32 queries taking 0.0354 seconds, 155 records returned.
Powered by Minx 1.1.6c-pink.