September 27, 2014
Space Dandy
Space Dandy has been becoming less and less of a guilty pleasure.
No, not that it's becoming less of a pleasure, but that I'm feeling less guilty about it.
Sure Dandy & co. are definitely the lesser lights in the universe, but the Universe they inhabit is MUCH more interesting. What they first promoted as Alien hunters and Boobies has, for one thing, had far less boobies than advertised, but in spite of the low-brow premise, a whole lot of high-brow stuff has been chucked into the mix. One of the latest episodes introduced one of Dandy's former girlfriends, a 4th dimensional creature only visible to us as a rotating hypercube with a heart suspended in it, and she's asking for help with another former boyfriend of hers, a Two-dimensional king who warps his two-dimensional world into threespace just to pursue her.
Yes, that's right, a Space Dandy retelling of Flatland.
Other episodes have rounded up a massive collection of alternate universe Dandys and crews caused by pulling on a Cosmic String that interconnects all the possible worlds.
Even the Infamous Time Loop story gets the Space Dandy treatment, which is better than it sounds. Sure, the idea has been around since
Groundhog Day
, or the far superior
12:01
, but what really saves it is the loop turns into a rather sentimental character piece that reconciles Meow and his blue-collar family whom he's turned his back on since he ran away to space.
The Episodic, no-continuity format has freed up the writers from the typical anime tropes and allowed them to experiment wildly. Not all of the experiments succeed (in fact, there have been a couple of really miserable episodes), but the show really is a breath of fresh air.
Posted by: Mauser at 01:32 AM | No Comments | Add Comment
Post contains 292 words, total size 2 kb.
September 21, 2014
Anime Invades Reno
I took a lot of pictures at the Reno Air Races with my dinky little Olympus, and some of them even came out okay. I even took some horrid little avi videos, but until I can find a good video editor (suggestions welcome) they're only good for some really cool engine sounds and annoying announcers.
But one thing I did get some good shots of were the banners and nose art. It seems that Anime Girls have invaded.
Multiple Champion Strega had this hanging in their shirt booth: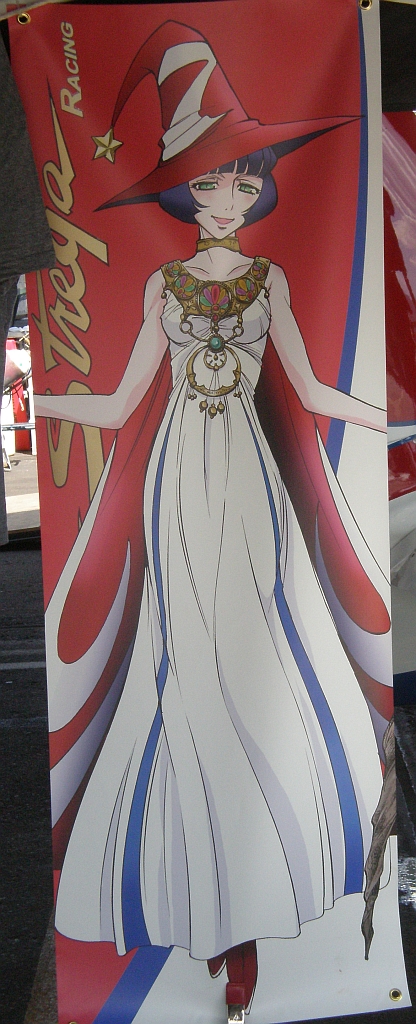 Click to Embiggen
And Precious Metal had this banner, invoking their Rolls Royce Griffon engine and dual counter-rotating props:
However, I think Anime Girls must be a curse, since both racers got disqualified at a critical juncture.
La Patrona, a Grumman F7F Tigercat, who under her previous owner raced in standard Marine Corps livery, and never did too well, persevered in Navy colors and a more traditional bit of nose art.
If you want to see her under the previous owner, and hear the wonderful sound of her engines, here's an airshow performance on YouTube.
There are pictures of her in both forms at the
F7F Tigercat
wiki page.
Even the smaller planes got into the act: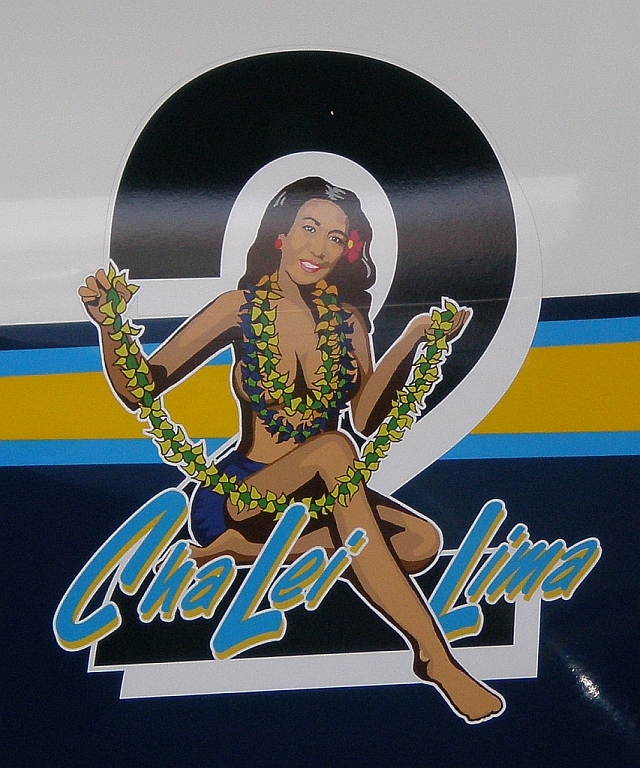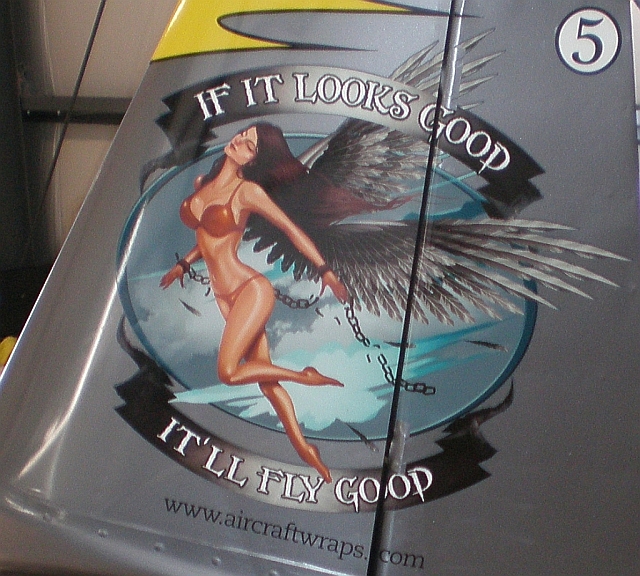 Another long-standing tradition is to cram teddy bears or other stuffed animals into engine intakes and cowl vents to keep birds and insects from nesting in them. This tradition too gets a little modern updating: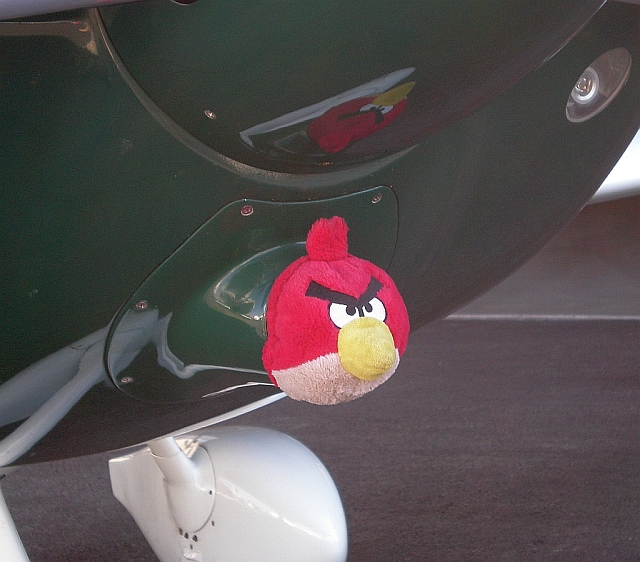 Posted by: Mauser at 05:31 PM | No Comments | Add Comment
Post contains 249 words, total size 3 kb.
September 13, 2014
Live feed
Should have mentioned this earlier, if you want to stream the Reno Air Races, hit www.LiveAirShowTV.com for the feed. (Haven't verified it, but that's what the banners all say.)
If you do, you'll get a chance to see the final race of the Gold Unlimited class, which, unfortunately, will be running while I'm on a plane going home.
Dammit.
The race announce team isn't nearly as good as the one for Formula 1, I'm sure, but the racing can surprise you by being exciting when you least expect it. Like today's Unlimited race where Strega was dogging Voodoo for the whole race, but taking a very high line, until after the last turn when in a dive, he eked out that one last bit of speed that led to a photo finish. And the average speed was knocking on the 500 mph mark.
Unfortunately, he was behind at the line by about the length of a spinner. But man, that brought everybody to their feet.
And get this, at this point, this race was basically for determining the order on the pole for Sunday's final. They're all already qualified. But pushing that hard strains the equipment. Strega actually maydayed dying the cooldown lap and landed first. No idea what happened. But you can bet they will really be running hard during the race I'm going to miss.
Update: Rumor has it the FAA decided to take issue with Strega's higher altitude tactic, and while hashing it out, the Strega team decided to declare that the engine issue took them out of the running in order to avoid FAA action.
Through the wonder of free wi-fi at the airport, I was able to watch the final race from the webcast which concluded just before boarding. Precious Metal, which I had been rooting for since it clawed it way up from the back of the unqualified Bronze class, through Silver and up to the Gold race, put in a tremendous performance and finished third.
Then the FAA decided they needed to prove their manhood even further against these racing hooligans and declared that they had crossed the "Show line" and they were disqualified. In 51 years of racing, there has only been one accident that resulted in injuries and death in the audience. Compare that to Indy racing. But the FAA has been going overboard in their attempts lately to nerf the event. The "Show line" was pushed much further back, this altitude cap was added (apparently all the way around the track, not just at the show line as some unfortunately believed), and jersey barriers were erected 40' from the box seats, obstructing part of the view (And that fucking security truck liked to park between them, blocking our view of the final pylons.)
Posted by: Mauser at 04:34 PM | Comments (2) | Add Comment
Post contains 465 words, total size 3 kb.
September 08, 2014
Vay kay.
I don't normally take vacations, but I have some friends I haven't seen in about eight years. In fact, the last time I saw them was at this same event. It was around the end of my long unemployment (although nobody knew it was the end) and they thought I needed to get away, so they paid my full ride, and it was an incredible experience.
So where am I going?
Reno, Nevada.
"So," you shrug, "too cheap to go to Vegas?"
Well, Vegas doesn't have the National Championship Air Races. That's where I'm going. And this time I can pay my own way. In fact, we've got box seats.
I'm in quivering anticipation of being there as the Unlimited Class racers go by and half a dozen screaming Merlin Engines rend the air.
I promise to take photos.
Posted by: Mauser at 09:52 PM | No Comments | Add Comment
Post contains 141 words, total size 1 kb.
28kb generated in CPU 0.03, elapsed 0.0553 seconds.
32 queries taking 0.0344 seconds, 158 records returned.
Powered by Minx 1.1.6c-pink.