June 17, 2015
Shingeki no Bahamut Genesis
You may recall I highly recommended this Epic series. Mawaru has just put up the 4th and final BD on NyaaTorrents.
Posted by: Mauser at 01:37 AM | No Comments | Add Comment
Post contains 25 words, total size 1 kb.
June 16, 2015
Himawari gets an Upgrade
World of Tanks and other things have been taxing Himawari's poor GTX 650 video card. It doesn't take TOO much to max out the GPU and the fan whirrs like mad without much provocation. So, I went for the top of the line, but missed a little again. I set out for a GTX 980 Ti, but what I found was the non-Ti model for about $120 less (Still a $500+ card), but it was the best thing on the shelves at Fry's and still 5 times more powerful than the old card. One nifty thing about the Corsair modular power supply is that in the bag of power cables, there was one specifically for supplying juice to Extra Power-hungry PCIE cards. No need to tap into the hard drive lines.
I also found a liquid cooling unit for the CPU. Fortunately I didn't let the Salesgal talk me into the bigger unit, as the one I got barely fit in my full size case. Installing it was scary, mostly because I couldn't get the damned OEM heat sink off. I did think it odd that instead of the typical thermal grease, the original heat sink came with a patch of gray something pre-masked on it. I thought it was nice and would keep things neat. I didn't realize the putty would stick like glue. By the time I prized free the heatsink, the processor was yanked out of the ZIF socket along with it! I even bent a couple of pins slightly. Fortunately they were not bent so far that they could not be bent back without breaking. But getting the processor free of the heat sink required the services of a kitchen knife, and even then it was iffy that I could get it off, and getting cut was a possibility, given how unwieldy the heat sink was. When the CPU suddenly popped off, it was surprising.
The cooling unit came with all kinds of hardware for attaching the cooling plate instead of the using the original heat-sink mounting hardware. Virtually none of it fit (the ZIF socket must be higher profile than they planned for), so I figured out how to use the original screws to hold it in place. The radiator/fan/pump unit replaced the rear fan in the case, and took up a lot of room, almost 3". It also came with a second fan, in case I needed even MORE cooling.
Once I managed to get it all together, it was amazing. The new graphics card has three fans, but because of that, they all run much slower, and so the noise level has gone down considerably during games, and the water cooling has totally stabilized the CPU temperature, and again, killed almost all the noise. The only downside is the noise it does produce is a steady, low sine-wave note, which even though it's quiet, still penetrates from all directions.
Interestingly, my UPS also reports a slightly lower power consumption.
My frame rates didn't quite get the boost I thought they would, but the graphics modes are higher, so that evens out. My network is more of a limiting factor now. The reduction of noise (except for that note) is really, really significant, and I wonder if I added that second fan would it drop even more.
I'm even tempted to push the Overclocking button on my motherboard. The Graphics card has some overclocking options as well, but I'm not sure how to use them properly.
One sad thing is that my case, which is lined with foam to help deaden sound, is opaque. And the liquid cooling unit has an RGB LED set in it that will actually indicate temperature. The video card also has some gaudy LED bits on it, but none of that can be seen when the case is buttoned up.
Posted by: Mauser at 02:47 AM | No Comments | Add Comment
Post contains 645 words, total size 4 kb.
June 07, 2015
Knights of Sidonia - Suits
A space suit with a skirt and super high heels?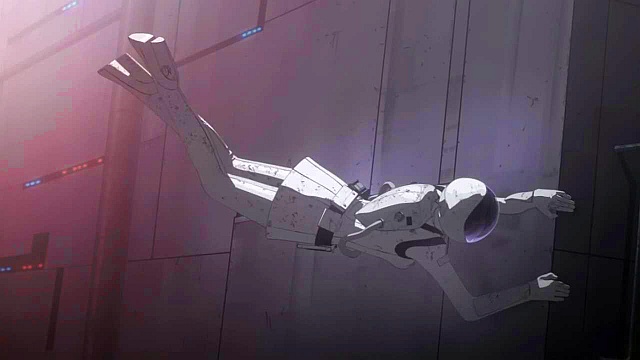 Why not? If you've got the technology, flaunt it.
They also have... other... technology. It's good to see the tradition has survived a thousand years after the distruction of Earth. Below the fold...
more...
Posted by: Mauser at 04:45 AM | Comments (6) | Add Comment
Post contains 83 words, total size 1 kb.
25kb generated in CPU 0.03, elapsed 0.0567 seconds.
32 queries taking 0.0348 seconds, 160 records returned.
Powered by Minx 1.1.6c-pink.